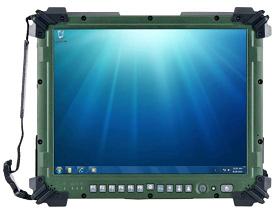 It may be hard to remember all the way back to 2010, but when the iPad was first introduced, no one was sure if the public would actually adopt it.  "People already have a smartphone and a laptop," ran a common refrain, "What's the point of another mobile form factor?"
Now, tablets rule.  Time magazine has quoted Apple CEO Tim Cook as stating"… that virtually every Fortune 500 and Global 500 company is already using the iPad in their businesses and adding more each quarter."  What makes this especially remarkable is that Apple envisioned the iPad as a consumer, rather than a business product.
The popularity of tablets has influenced the niche market of rugged computers. Rugged tablets are favored by businesses, such as Oil & Gas, inventory, field work, construction, and Public Safety.  Of course, AMREL has always been big on tablets; our ROCKY DR8 and DK8 are used by industry personnel and warfighters in a wide variety of demanding environments.
Several forces contributed to the tablet's success. Developers made business tools for the iPad.  Consumers started bringing them to work (Bring Your Own Device: How Consumer Products Are Impacting IT).
Indeed, the fact that individuals are increasingly using their personal devices at work may be more significant than the rise of tablets.  Consumers are now driving business choices.  Supposedly, even the ARMY became serious about smartphones, when young soldiers began bringing their own mobile devices to the battlefield.
Enterprise solutions used to be known by their uniformity of mobile platforms.  With workers now using their own devices, IT directors are getting used to supporting a variety of products.
Consumers are notoriously fickle. They put tablets on their throne; they could bring it down, and this may happen sooner rather than later, especially in the rugged sector.
Many businesses will soon be changing their rugged computer operating systems. Microsoft used to dominate software applications for rugged platforms, but they haven't updated Windows CE in a while.  Their new Windows Phone 7 will not be compatible with applications on their older OS.  Businesses will be scrambling to replace their applications, with many opting for Android.
What do you think, dear reader?  Will businesses and/or consumers replace their hardware at the same time as their software? Will the popularity of tablets continue to grow, or will consumers move on to other form factors?
http://amrel.com/wp-content/uploads/2013/07/DK8MFront1.jpg
211
276
William Finn
http://amrel.com/wp-content/uploads/2013/08/amrel_logo300-225x60dpi.jpg
William Finn
2012-02-10 23:05:37
2014-01-23 09:46:18
Tablets rule, for now