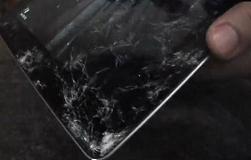 Videos of computers being smashed have a certain visceral appeal. Even though computers make our life easier, all of us have experienced an impulse to chuck one through a window.
While not quite as violent as a window toss, this video  demonstrates a test that seems eerily familiar to a drop test of MIL-STD 810.
The damage to the various iPads is not a surprise; they are not designed to be rugged.  Still the iPad affects the rugged market. As noted in the Rugged PC Review Blog, "…like it or not, the iPad, like the iPhone, sets consumer expectations on how computing ought to be done."
 iPad has set the standard. Recently, an acquaintance was involved in purchasing tablets for an enterprise application.  For various reasons, the iPad was never even considered, but throughout the entire acquisition process, the object of desire was referred to as the iPad ("Do you have an iPad with an Android OS?").
For years now, enterprises have been exploring the world of rugged computers.  They understand that once downtime, replacement, and repair expenses are factored in, the Total Cost of Ownership of a rugged system is actually less than a cheaper counterpart.
So, there are two incompatible desires operating in the enterprise sphere; the lust for iPads conflicts with the bottom-line appeal of rugged systems.  What's an enterprise to do?  Buy protective cases.
Protective casing for computers are similar to some rugged computers in that some of their manufacturers make extravagant claims that may or may not be true.  AMREL makes a point of having its platforms independently certified, so there is no question about its toughness.  Besides, our computing solutions are used in combat theaters, so we know their tough.  There is even a report of one saving a soldiers life by stopping a bullet.
Take a look at the video from ZD Net.  I doubt very much that this protective sleeve will be stopping a bullet anytime soon.
http://amrel.com/wp-content/uploads/2012/06/broken_iPad.jpg
160
251
William Finn
http://amrel.com/wp-content/uploads/2013/08/amrel_logo300-225x60dpi.jpg
William Finn
2012-05-10 17:35:30
2014-01-23 09:46:14
Not so rugged test videos