The decline of PC
Way back in the antediluvian ages of 2010, when everyone thought the "Harlem Shake" was
something you drink, Apple introduced the iPad.  Nobody, even Apple, really knew how the market would react.  After all people already had smartphones, laptops, netbooks, and the old standby, the desktop PC.  Did folks really want another form factor?
Turns out they did. Tablets sales took off, while PC sales stagnated.  As the above chart from International Data Corp (IDC) demonstrates, the first quarter of 2013 reported a 14% drop in PC shipments, falling below 80 million units for the first time since 2009.  This is the worst quarterly report since IDC began tracking PC shipments in 1994. Tablet sales, on the other hand, took off.  Business Insider has a well –done series of illustrations on recent computer trends, including this one: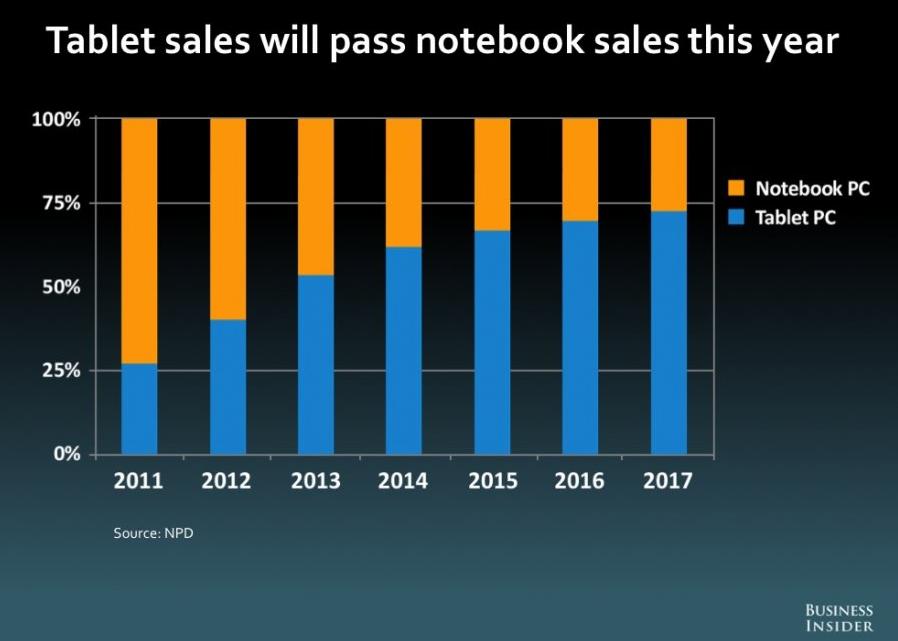 The drop in PC sales was consistent in all global regions, independent of economic conditions, and true of virtually all non-tablet manufactures (IDC rival Gartner disagrees in that they report a 7.4% increase for Apple).
"Manufacturers mildly concerned about PC sales drop" is not a good headline
The media jumped all over this report.  The Atlantic proclaimed the "End of the Home Computer, while Salon declared the "PC is dead."
The PC has been declared dead before. With the increase in the popularity and functionality of smaller form factors, as well as the increasing utilization of cloud computing, tech journalists have been writing PC obituaries for years.
Is the media indulging in typical hyperbole or are we actually witnessing a major disruption?  Are tablets and smartphones really killing off the PC? Is there something else going on?
Question: How do you spell Windows 8?
Answer: V-I-S-T-A
IDC is very clear on what they think caused the decline in PC sales: Windows 8.   Usually a major change in an OS drives up PC sales. This time, as IDC analyst Bob O'Donnell reports, "… it
seems clear that the Windows 8 launch not only didn't provide a positive boost to the PC market, it's actually hurt the market."
Windows 8, designed for tablets as well as PCs, has a reputation for being annoying to use. Even an article that praised Windows 8 felt the need to run with the title "You'll Hate Windows 8."   IDC analyst, Jay Chou explains that Windows 8 offers "a compromised experience that doesn't excel, either as a new mobile interface or in a classic desktop interface."
In the face of widespread hostility to Windows 8, Microsoft is maintaining a stiff upper lip. They point out that over 60 million licenses have been sold, and Windows 8 will start appearing in attractive consumer devices soon.
Jensen Harris, Director of Program Management for Microsoft's User Experience team, wrote a lengthy blog post, correctly pointing out that Microsoft has made many changes to their OS before, and that after people's initial negative reaction, they eventually adapted.  Harris's point is valid, but is that how they plan to sell Windows 8 to a skeptical public?  Imagine commercials with the following headlines, "Windows 8 – You'll get used to it" or "Windows 8:  You won't hate it for long."
To be fair to Microsoft (which is not nearly as much fun as ridiculing it), many technology writers report that Windows 8 does what it's supposed to do: provide an appropriate user interface for tablets and optimize power management, a major concern for mobile devices.  Microsoft may be right that consumer resistance will melt away once the word spreads that tablets with Windows 8 don't have to be recharged as often.  While the opposition to Windows 8 may be temporary, I suspect the drop in PC sales in not.
 In Part II of this series, we will examine the role of software upgrades and "innovation exhaustion" in the decline in PC sales, as well as the long-term future of larger form factors. 
To read Part II and the article in full, click here.
http://amrel.com/wp-content/uploads/2013/05/Tablet-sales-will-pass-notebook-sales-this-year.jpg
641
898
William Finn
http://amrel.com/wp-content/uploads/2013/08/amrel_logo300-225x60dpi.jpg
William Finn
2013-05-02 14:18:38
2014-01-23 09:46:04
Did smartphones & tablets kill the PC? Part I: It's an iPad world, but not Windows 8's