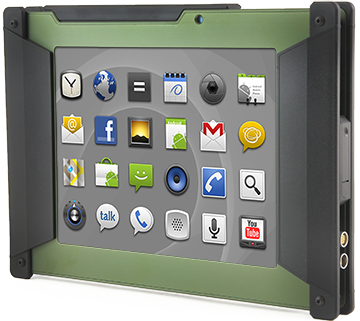 AMREL is providing unprecedented opportunities for VARs and resellers to distribute Flexpedient® AT80 rugged, Android tablets.
"This is a big deal," declared Javier Camarillo, AMREL's Senior Application Engineer. "We have structured the reseller program to make it as easy and profitable as possible."
Unlike many reseller agreements, there is no required minimum order, and no complex legal agreements.
"We keep it dead simple," he explained. "The typical reseller should be pleased with the no-hassle arrangement as well as the healthy profit margin."
The Flexpedient® Android AT80 tablet was designed to appeal to the typical end-user. Lightweight and boasting the popular Android operating system, it has demonstrated an appeal beyond the usual rugged markets.
"Typically, only the military and First Responders buy rugged computers, which are more durable than commercial systems," explained Mr. Camarillo. "Recently both consumers and enterprises have expressed interested in rugged systems.  In the long run, ruggedness saves money due to reduced repair, lost work, and replacement costs."
"We have received inquiries from scientists who want them for collecting field data in remote locations," stated Mr.  Camarillo. "Folks want it for aviation applications. Oil & Gas companies like its impressive IP 67 rating, as well as its lightweight mobility.
"Since it is easily modified, product developers have been calling us. A major league baseball club has bought the biometric version to help manage events at their park. This is a great opportunity for an aggressive reseller.
"One reseller described us as the Humvee of rugged tablets, because we are transferring military products to the industrial and commercial markets. Just like the Humvee, we are offering Flexpedient® AT80 rugged tablets in a variety of colors. We also offer engraved custom logos for companies interested in promoting their brand."
Standard features include Android 4.3 (Jelly Bean), 8" 10-point multi-touch capacitive touchscreen display, front/back 5 MP cameras, 802.11 b/g/n, GPS, Bluetooth®.
To learn about the Flexpedient ® AT80 and VARs/reseller program,
contact Javier Camaillo at: (800) 882-6735  or javierc@amrel.com
http://amrel.com/wp-content/uploads/2015/07/IMG_9410.png
328
360
William Finn
http://amrel.com/wp-content/uploads/2017/04/amrel_logo300-225x60dpi.jpg
William Finn
2015-07-07 16:16:21
2017-07-11 12:09:05
Android Tablet Opportunities for VARS/Resellers