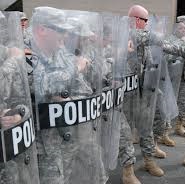 Sometimes the best way to learn about a subject is just to listen to a bunch of well-informed people sit around and casually discuss it. This is the basis of AMREL's Rugged Radio Podcast, in which we talk about the so-called "militarization of police."
William M. Arkin, writing in Gawker, has turned this controversy on its head by contending that soldiers are becoming more like police. His article is worth reading in full and you can access it here.
Arkin cites the rise of biometrics enabled intelligence as well as forensics enabled intelligence as evidence of how soldiers are adopting police tactics.  For reasons unclear to me, he writes that counter-IED efforts are also police-type activities. He ends his post with the dramatic, if somewhat ominous, "The world has become a crime scene."
I was curious what AMREL's local military experts thought about this article. So I sought the opinion of Rob Culver, Director of Program Management for AMREL.  A former U.S. Army Special Forces soldier (AKA Green Beret), he has 23 years of experience in the Army.
Rather than describe his reaction, I'll just let you read it in a slightly edited form:
"This is the most ****** up article I've read in a while.
"Arkin is skilled at weaving words to create the semblance of a pattern that does not exist.
"He goes from the assumption that 'forensics is a police-only tool to the conclusion that the 'world has become a crime scene.'  Catchy.   What the hell does that mean anyway?
"What he describes as forensics can also be termed Intelligence Preparation of the Battlefield (IPB).  In the conduct of IPB, you evaluate the terrain.  Slow go/no go terrain.  Swamps, rivers, bridges, mountains, open spaces.   You also evaluate population density and characteristics, i.e. who supports U.S. activities versus those who oppose us. Also, you evaluate ever increasingly the more complicated relationships such as Sunnis and Shias and Kurds etc…   Frenemies.   It gets complicated.  But, it has always been part of military training and operations.
"When the Indian scout jumps off his horse and examines the hoof tracks and droppings in the trail, he can tell how long ago the enemy was there,  how many, how heavy, the condition of the horses as well as what the horses have been eating.  Using his special Indian scout database (all that information stuck in his brain by his elders, training, and experience), he determines where the closest food source is for what the horses have been eating, and…. abracadabra – forensics! It has been a part of warfare since a patrol from one tribe started tracking a raiding party from another tribe.
"As for biometrics, it has always been part of military operations and population and movement control. Special Forces teams in Vietnam used fingerprints identification to ensure they were not double paying local guerrilla forces (Montagnards, etc.).The difference is instead of using our eyeballs to observe and measure, we have high tech gadgets. Still does not make it police work.
"Everything Arkin refers to can be found in the 'Small Wars Manual: United States Marine Corps 1940.'  Yep. That is pre WW II. The only difference is the technology and terminology.
"For some reason Arkin states:  'The Navy, always the single manager for explosive ordnance disposal (EOD) technology, which includes technical exploitation of recovered explosives, explosive devices, and other explosive hazards, is more heavily involved in weapons technical intelligence and exploitation than ever before.'
"To which I reply, yes. IEDs are an explosive hazard and in the past decade posed a greater threat to our forces than previously. What is your point William?  How is protecting military forces and local populations during operations NOT a military responsibility?
"Arkin also states 'Because, ironically, if military's role is merely collecting evidence, then the fundamental post-9/11 talking point that terrorism is not a law enforcement matter needs to be revised.' This premise is so flawed; I gag and do not know where to begin.  If you think, all our military is doing, is collecting evidence these days… I don't even know what world you inhabit.
"Also, '…as if the experiences of the past 14 years governs or should govern how the United States forms, trains and equips its military.'   Why yes it should, William. Along with, and in context with our previous 200 years of warfare.  Or, Mr. Arkin, do you suggest we ignore the lessons learned of the past 14 years of conflict?   Again, this article is so flawed from the very beginning of its premise; I do not know where to start.
"In this article, Arkin referenced his other article Improvised Explosive Devices Are Reducing Our Freedoms. From that I found this excerpt.  'But now wherever and whomever the perpetrator, 'bomb' has been rebranded as IED and turned into a supposed tool and act of terror.'
"Yes William, IED is a newer and more accurate description of some types of bombs. For those who have driven through an IED ambush, there is no doubt that an IED is a 'tool and act of terror.'  Nothing 'supposed about it.
"Arkin, you are wrong."
For those who don't know Rob, he is a pretty easy going guy, so his strongly worded response was a bit of a surprise. I found some of Rob's points convincing, but I think he may be missing the bigger picture. My reply to him:
"I think you may be right on the money on the specifics, but not the overall point. Sure identifying the enemy and collecting intelligence have always been traditional activities in war. While military operations have always involved elements of policing, haven't policing missions overwhelmed what has been regarded as traditional military actions? Isn't this a natural consequence of asymmetric warfare?
"Seems to me that at the beginning of the Iraq/Afghanistan mess, I heard more than one brass hat complaining that the military was doing a job it wasn't trained for.  In other words, we know how to take out tank formations and infantry in trenches, but how are we supposed to patrol neighborhoods?
"When I lived in Israel, I heard this argument a lot.  The military was worried that their decades-long mission of patrolling the disputed territories was eroding their abilities to fight a traditional war. Israel's less-than-stellar performance during the Second Lebanon War seemed, to many, to reinforce this fear (Personally, I blame the Lebanon fiasco on staggeringly incompetent civilian leadership).
"You are right that stuff like biometrics and ISR have always been the province of the military.  But the missions have changed.  Most of the wars fought post-World War II have not been World War II style wars.  The only one I can think of was the First Gulf War.  That war was a cakewalk, because our military was designed to fight it.  Everything else has been a problem, and despite everyone's efforts, it doesn't seem like we have figured out a solution.
"Three other points:
In the wake of Ferguson there's has been a lot of talk about the militarization of police.  I read comments in news articles by veterans stating they would never act as the police in Ferguson do.  Trained in counter insurgency, soldiers know better than to point automatic weapons at peaceful demonstrators. Furthermore, the veterans thought the police were wildly over armored and over armed for their mission. Also, soldiers look for ways to deescalate a situation, something some cops obviously haven't learned. As I have written before, I think the problem is that the police are not militarized enough.
9/11 was in some ways the beginning of the 'War on terror.' The NYPD declared the ruins of the World Trade Center a 'crime scene,' and repeatedly reminded everyone about this. Indeed, the 'world is a crime scene.'
The article mentioned the old argument 'Is the terrorism a criminal or a military problem?' It's a military problem when we want to use the military. It's a criminal problem when we want to ignore the military code of justice (Sorry Red Cross, no prisoners of war here!). It's a military problem when we want to ignore the constitutional rights of accused criminals. Those special courts in Guantanamo are a travesty and ineffectual as well. US prosecutors have had a better success record in regular courts.
"As I wrote above, I agree with your criticisms about the article, but I think his overall point may be valid."
Rob wrote back:
"You might be right.  You do make your points.   Arkin, tho', has a track record.
"We got fat and lazy.  The only war we (The Military) were gearing up and training for, involved the godless communist hordes roaring across the Fulda Gap, where we would stop them, standing toe-to-toe, trading tactical nuke for tactical nuke.  Thank God that didn't happen.  But it was easy on the military mind. Might and Right.
"But where do these wars fit in? Barbary Wars, the Banana Wars, Spanish–American War, Philippine–American War, Moro Rebellion, Boxer Rebellion, Poncho Villa Expedition, etc.
"I guess you have to start with a definition of traditional military actions, which means ensuring we differentiate between the mission of the infantry and the mission of our nation's military. I would argue that our nation's military is a tool with applications far beyond 'close with and destroy the enemy.'
"The US Military is conducting joint airborne operations with Latvian forces this week.  Just a training exercise.  But why?  To get better at jumping?   Or does it have something to do with containing Russia?
"Yeah, it is a lot simpler when the bad guys wear bad-guy uniforms and the good guys wear US uniforms and the civilians live somewhere completely 'not here.'  But that nostalgia is based on fantasy.  It never has been that way. During World War II in Europe, homes were bombed and civilian lives were shattered. Crime was rampant.
"War has never been simple. It has always been messy. And there is always some ***** that thinks we should 'kill them all and let God sort them out' or 'bomb them back to the Stone Age.' Anything less is 'not our job.'  But despite TV, movies, and brass-hatted jack assess, that has never been 'The Mission'.
"Is terrorism a crime or an act of war?  I think, in general, what we frequently call domestic terrorism should be treated as a crime. Terrorism can be a tool of criminals such as drug cartels and mafias, as well as military. Terrorism on US Soil conducted by outside elements is war. Terror conducted by US Citizens, overseas, against US asset is war. Was Johnny Walker Lindh a criminal or an enemy combatant?  We already know he is a dumbass.   I say 'enemy combatant.' I don't think he belongs in a penitentiary; he belongs in a POW camp.  Nor do I think he deserved a civilian trial."
I'll let Rob get the last word (for now).  What do you think? Have the military's missions become mere policing? Is terrorism a legal or military problem? Send your opinion to editor@amrel.com
 The opinions discussed in this article do not necessarily reflect those of AMREL, its employees, clients or partners.
http://amrel.com/wp-content/uploads/2015/07/police-soldier.jpg
184
185
William Finn
http://amrel.com/wp-content/uploads/2017/04/amrel_logo300-225x60dpi.jpg
William Finn
2015-07-02 10:23:06
2017-07-11 12:09:05
Are soldiers turning into police? An informal conversation