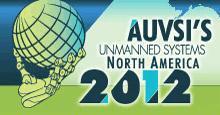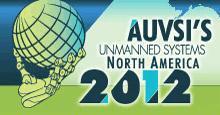 What was the buzz at AUVSI North America conference, besides the UAVs being demonstrated?  I talked to many, many people at the show, trying to glean information for future blog postings as well as newsletters. It's hard to generalize, but I did notice certain topics being frequently discussed on the exhibitor's floor. For the purpose of this blog post I am excluding conversations at the seminars.

What happens in Las Vegas, stays permanently on your work record
A number of people commented that this year's attendance and exhibits were smaller than last year's (I don't know if this is true; this is my first show).  I heard a rumor that the GSA scandal that occurred a few months back made Las Vegas a questionable destination for some participants.

Sequestration and the next big thing
Many people expressed concern about Defense cuts.  This has led to increased efforts to transfer technology to the civilian world.  The media folks I talked to said that "the next big thing" is a primary focus for their articles.  Unmanned system developers excitedly talked about applications for oil & gas line inspections, agriculture, fire-fighting, and law/security/DHS. If I had to pick one application that was the highest profile, I would say it was using small UAVs to provide intelligence about crowds for law enforcement. Both developers and attending police officers repeatedly mentioned this application to me.
Interoperability
Since AMREL is a leader in interoperable solutions (see www.commoncontrolnow.com), I have followed this issue closely for years.  I was under the impression that some progress had been made in the seemingly eternal "interoperability vs. proprietary" conflict. Several conversations at AUVSI North America made me question my previous notion of progress. One attendee loudly told me that "Interoperability is a scam!" Another person who was deeply involved in government programs bitterly described how interoperability efforts were repeatedly being blocked. More on this topic in the future.
http://amrel.com/wp-content/uploads/2012/08/auvsi1.jpg
115
220
William Finn
http://amrel.com/wp-content/uploads/2017/04/amrel_logo300-225x60dpi.jpg
William Finn
2012-08-16 16:25:49
2017-07-11 12:09:14
AUVSI North America - What's the Buzz?