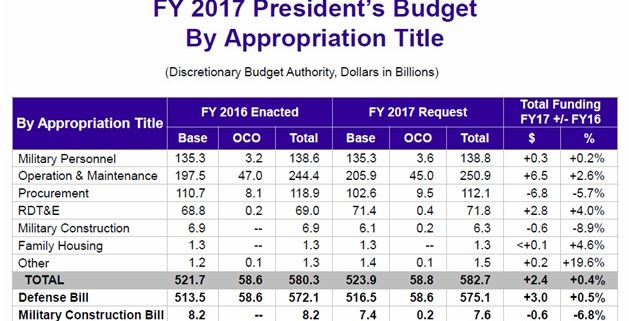 At AMREL we play close attention to pressures placed on the Department of Defense (DoD) budgets. We strive to respond to ever changing needs of our clients and market forces.
How are things going for the DoD? If you listen to the leadership, not so good.
"Every single time I stand on stage, I tell people the budget is getting worse and worse, and I've always proven to be correct," said Tony Montemarano, executive deputy director (Defnse Information Systems Agency) … "there are a lot of legacy programs … that now will lose funding." Signal
"Adm. Mulloy cited an old saying about Navy chiefs squeezing nickels 'until the buffalo squeaks,' advising chiefs today to watch their spares closely…" Signal
"The Navy continues to postpone much needed repairs and upgrades for the majority of our infrastructure," said Admiral Michelle Howard, vice chief of naval operations. "We are still paying down the readiness debt we accrued over the last decade, but more slowly than we would prefer and at continued risk to our shore infrastructure." VOA
The above represents just a small sample of the grumblings emanating from our military leadership. Complaints about budgetary limitations are ringing across the land. A half-trillion dollar Defense budget is just not enough.
Defense budget
What's going on here? Is this just business as usual? After all, no officer ever advanced his career by loudly proclaiming his command had too much money. Let's look at the Defense budget: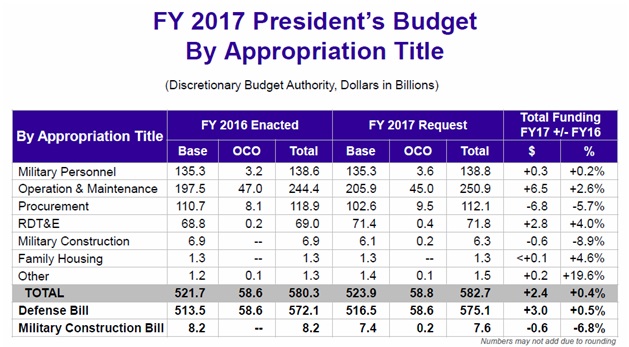 The budget for 2017 is $521.7 billion, which is down from previous requests (2013 was $525. 4 billion). As can be seen from the above chart, procurement funding has decreased, while funding for research has increased. Of course, this doesn't include the Overseas Contingency Operations (OCO) budget, which has been slashed. Supposedly OCO doesn't affect base expenses and is used only for actual war operations.
Could these relatively modest decreases be responsible for the economic squeeze that Defense is so vigilantly complaining about?
War is bad for living things and new acquisitions
During the Iraqi and Afghanistan campaigns, the DoD had to divert funding from upgrades, maintenance, readiness, and acquisitions to pay for the land wars. Furthermore, the money spent the land wars did not contribute to DoD's assets or goals. Equipment was scraped, abandoned, or given away.
"For the most part, war-related acquisition funding was not used to modernize and recapitalize the inventory of equipment."
Defense Modernization Plans through 2020
Bow Wave
As a result of this diversion, the programs for new acquisitions were stalled and goals became delayed to an unknown time. This created the phenomenon known as "Bow Wave."  Think of the bow of a ship pushing into the ocean. The wave it creates is constantly moving forward. The defense community uses this as a metaphor for the current state of funding. A "Bow Wave" in defense parlance, is the delay into the indefinite future of major expenses. It's sort of like a balloon payment at the end of a mortgage.
The "Bow Wave" is expected to suck all available funding, causing non-prioritized projects to suffer. As a result, the brass is scrambling to declare that their individual programs are overwhelmingly important, while the other guys' pet projects are just waste.
In the big fight about defining what is and what is not waste, we could simply build the kind of military we need and get rid of everything else. One small problem with that way of thinking; take a look at DoD's goals as outlined in the DoD Budget Request 2017.
"Funds a joint force with the capacity and capability to:
– Defend the homeland
– Respond to five challenges
o Russia
o China
o North Korea
o Iran
o Global counter-terrorism"
As you might expect, the forces required to deter Russia are quite a bit different from those that would engage China and so on. No one really knows what war we are going to fight next.
How is the "Bow Wave" going to affect defense-spending priorities?  A future blog post will discuss winners and losers in upcoming Defense budgets.
http://amrel.com/wp-content/uploads/2016/04/Defense-1-1.jpg
347
629
William Finn
http://amrel.com/wp-content/uploads/2017/04/amrel_logo300-225x60dpi.jpg
William Finn
2016-04-05 15:12:06
2017-07-11 12:09:02
"Bow Wave" is Critical to Defense Budgets