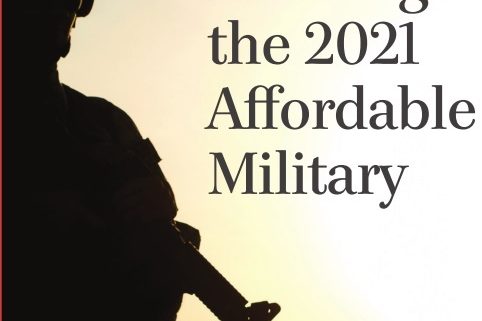 The bipartisan Center for Strategic and International Studies (CSIS) has been rated the "…number one think tank for security and international affairs" (Wikipedia).  Power brokers and key influencers staff the CSIS, and when they talk, people listen.
What they have to say about how we spend money on Defense will undoubtedly be heard by important decision makers. The 120-page "Building the 2021 Affordable Military" was created by a CSIS study team over the course of two years. It is "…a methodological approach for how DoD could minimize the impact of a deep budgetary reduction and provide the military capabilities needed for the strategic realities of 2020+."
They even developed cost calculators for making trade-off decisions. They don't simply advocate a specific strategy; they tell you the cost of various "alternative militaries."
The great thing about this study is its unqualified embrace of details. What to find out how many tankers the Air Force Reserve has now? Will need? With or without sequester? With or without the Pacific tilt? This report has an answer for you. Same goes for battalions, submarines, and pretty much anything else you can think of.
One little tidbit I found on page 3 was "In the past, drawdowns ended below $400 billion in constant 2013 dollars; this one will bottom out at over $500 billion. In FY 2017, even though DoD is spending over $100 billion more, it will 'buy' an active duty force that is 34 percent smaller than in 1978 and six percent smaller than in 2000. This means not just fewer defense dollars but also a "weaker" defense dollar in terms of its purchasing power."
So, the people who are complaining that Defense spending is at a historic high (during a drawdown) and those that are warning about  "hollowed-out" military capabilities are both right.
"Building the 2021 Affordable Military" is an ideal reference work for those doing serious market research on Defense issues.  Download it here.
http://amrel.com/wp-content/uploads/2014/07/Building-the-2021-Affordable-Military-thumb1.jpg
478
482
William Finn
http://amrel.com/wp-content/uploads/2017/04/amrel_logo300-225x60dpi.jpg
William Finn
2014-07-10 14:33:47
2017-07-11 12:09:09
Building the 2021 Affordable Military [DOWNLOAD]