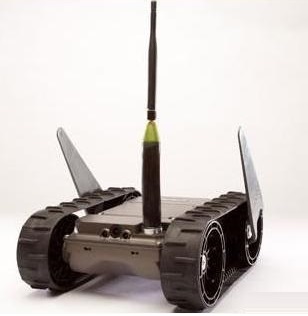 While researching an article on the Defense budget, I came across these two charts.
Source: Council of Foreign Relations
Intellectually, I knew that we had dramatically scaled down our involvement with Iraq and Afghanistan, but I didn't fully appreciate how much until I saw these two charts. Sure, we're still very much involved in the Middle East, and we may still get drawn back even further, but as of right now, major American combat operations in that part of the world are a shadow of what they were.
While it is great news that our soldiers are not in harm's way as much as they were, those involved in maintaining counter-IED capabilities may be wondering about their fate. Are counter-IED personnel, programs, and equipment to be put on the shelf until the next land war? Joint Improvised Explosive Device Defeat Organization (JIEDDO) has expressed concerned about its ability to preserve the valuable skills developed during recent conflicts.
This is a problem that affects other capabilities besides counter-IED. During peace time we can't maintain a factory producing a wartime-level of helicopters. However, if war breaks out, we don't want to waste time training workers, developing supply lines, and building the factory. NDIA has a nice summary of the challenges of Maintaining a Viable Defense Industrial Base.
Those involved in counter-IED efforts may not face this dilemma. IEDs are a civilian, not just a military problem. Public safety and security agencies will need assistance from those who have counter-IED skills and equipment. The article below, which is excerpted from Fierce Homeland Security, discusses this phenomenon.
Improvised explosive devices aren't just a significant threat to soldiers on the battlefield, but they're also a leading killer of civilians worldwide, Interpol's secretary general said this week in a news interview in Australia where the first-ever international forum to counter such threats was held.
"For instance, we have had more than 10,000 civilian casualties just this year around the world," said Jürgen Stock, during a Sept. 3 radio interview with the Australian Broadcasting Corp.
He said IEDs are the "weapon of choice" for terrorists and other criminals and a leading killer of civilians. "So it's really a global threat and what we need is a better information sharing between the military and law enforcement," he added.
Almost three weeks ago, an improvised explosive device, or IED, killed 20 people at a popular Hindu shrine in central Bangkok, Thailand. More than two years ago, two brothers detonated an IED during the Boston Marathon that killed three people and injured hundreds more.
Stock said that the Internet has made it easier for terrorists and others such as so-called lone wolves – individuals acting alone in attempting to or committing terrorist acts – to put together such bombs.
Interpol, the international criminal police organization that's based in France, co-hosted the Sept. 2-4 international conference along with Australian law enforcement and defense agencies to develop or enhance information sharing about IEDs and training capabilities among police and military personnel.
In the radio interview, Stock also talked about the role his organization is playing against foreign terrorist fighters. Many governments worldwide are concerned about their nationals traveling to conflict zones in Syria and Iraq to join the terrorist fight there as well as learn bomb-making skills that they can use to commit terrorist acts when they return to their home countries.
Stock said there are currently 25,000 such fighters from more than 100 countries that have joined the conflict zones and terrorist groups like the Islamic State of Iraq and Syria.
He said Interpol is building global platforms and databases to share information about these individuals with its 190 member states. One database contains 5,000 profiles of these fighters while there are other databases that include fingerprints, DNA material, and lost, stolen and forged identity or travel documents such passports.
He said it's important that these databases and tools are available and accessible to border security agents and police agencies.
http://amrel.com/wp-content/uploads/2015/09/FirstLook1.jpg
316
308
William Finn
http://amrel.com/wp-content/uploads/2017/04/amrel_logo300-225x60dpi.jpg
William Finn
2015-09-11 14:29:48
2017-07-11 12:09:04
Civilian IED Deaths