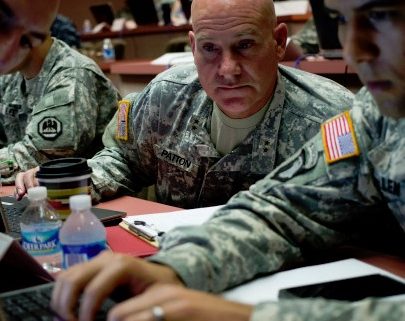 The wonderful Duffelblog website specializes in military humor, usually from an insider's perspective. I find the articles sharp, funny, and often revealing about what's going on in today's military.
The only problem is that the satirical stories are often indistinguishable from reality. For example, the supposedly funny headline Pentagon to Rename Confederate Bases for Army Values sounds totally plausible.  Another example is reprinted below from the Duffleblog website. You tell me: satire or truth?
FORT LEAVENWORTH, Kan. — The U.S. Army unveiled its latest digital command and control system, allowing commanders at higher echelons to make decisions at increasingly lower levels of responsibility.
"We hear all this talk about Carl von Clausewitz and 'empowering subordinates' in ARDP 3-0″ said Brig. Gen. William Burleson, Commander of the Mission Command Center of Excellence, referring to the Prussian officer's influence on the Army's latest operations manual. "But what I think we're forgetting is that Clausewitz never said anything about empowering subordinates. The guy was actually a huge micromanager. With this new battle command network, we can micromange our troops in ways Clausewitz never dreamed of."
Officials at the Mission Command Center of Excellence demonstrated how commanders could monitor whether or not soldiers were wearing reflector belts through an "exquisite" computer network linked to imagery from surveillance drones. Other unique features allow generals to examine down to the individual soldier level, such as whether or not they had complied with mandatory Consideration Of Others (CO2) training.
Burleson added, "Leadership is based on mutual trust, and if you can't trust us generals to make decisions, honestly, who can you trust?"
Army officials also noted that, by concentrating on mundane details like individual soldier equipment and company-level PT formations, senior Army leaders were freed from messy, time-consuming issues like budgeting, force levels, and formulating a clear exit strategy from Afghanistan.
Gen. Ray Odierno, the Army Chief of Staff, praised the new system.
"When I was a lieutenant — back before email — I could plan and execute an entire M-16 range by myself," Odierno said. "But thanks to the advent of email in the 1980s, I had the ability to plan and approve the same M-16 range as a company commander. Now, thanks to our battle command networks, I can schedule, arrange, plan, and approve an entire M-16 range myself."
"The great part about modern technology is that it allows us generals to re-live our glory days as 22-year old lieutenants."
http://amrel.com/wp-content/uploads/2015/07/satire-or-truth.jpg-small.jpg
400
405
William Finn
http://amrel.com/wp-content/uploads/2017/04/amrel_logo300-225x60dpi.jpg
William Finn
2015-07-02 15:32:57
2017-07-11 12:09:05
Duffelblog: Satire or Truth?