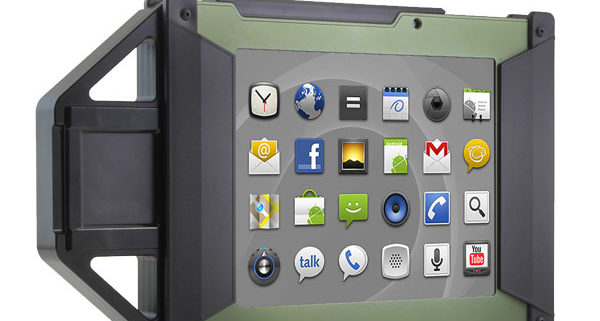 AMREL announced the FBI's certification of Flexpedient® AT80B Rugged Biometric Tablet.  It is now on the exclusive FBI's Certified Products Listing.
"The FBI has certified that the AT80B is in compliance with the CJIS Division's Next Generation Identification System Image Quality Specifications (IQS): EBTS Mobile ID FAP 45 Appendix F Specifications," explains Richard Lane, AMREL Vice President of Strategic Business Development. "It meets or exceeds the criteria for for Single & Dual Finger Flat & Rolled Print which means it can access the FBI's Next Generation Identification (NGI) database."
AMREL developed the AT80B in cooperation with Integrated Biometrics. Fingerprints are captured by the industry-leading Sherlock, an Integrated Biometrics module which utilizes a state-of-the-art Light Emitting Sensor.  This sensor is fully rugged, uses little power, needs less maintenance than traditional methods, and captures FAP-45 quality images.
"Integrated Biometrics is proud that our LES technology is part of the Flexpedient® AT80B Rugged Biometric Tablet, a rugged device serving mobile identity needs in any environment," said Mike Grimes, President of Integrated Biometrics.
This rugged tablet is designed to meet MIL-STD 810G and boasts an unusually durable IP67 rating. Built from the ground-up to be rugged, it is far tougher than a commercial tablet in a hardened case.
"The Flexpedient® AT80B Biometric Tablet is built on the AT80 platform," explains Kalvin Chen, AMREL's VP of Operations. "AT80's unique channel design enables true off-the-shelf customization in a short period of time. The two-finger biometric sensor was added in less than a week."
AMREL plans to leverage AT80B's customization capabilities in order to serve the Law Enforcement community. For example, a smart card reader can be easily and quickly integrated into the AT80B platform. AMREL is exploring adding an iris camera.
When asked about this biometric device, Assistant Chief William 'Bill' Leist (Ret) California Highway Patrol replied, "The AT80B is designed to fit the needs of modern law enforcement. The enrollment capability for high quality fingerprint capture will save officers from making unnecessary trips to booking stations. Furthermore, its exceptional ruggedness will ensure it will not break down at critical times."
Although special measures were taken to assist the Public Safety community, the AT80B is designed for use in a variety of situations. For example, this biometric tablet is being used by professional sports franchises to fast track VIP admissions at games. Another example is the Youth Detention Authority in South Africa, which has piloted the AT80B to verify visitors and track residents at facilities across the country.
Standard features include Android 4.3 (Jelly Bean), 8" 10-point multi-touch capacitive touchscreen display, front/back 5 MP cameras, 802.11 b/g/n, GPS, and Bluetooth®.
Learn more at: computers.amrel.com/at80b
http://amrel.com/wp-content/uploads/2016/05/AT80B-1-2.jpg
600
600
William Finn
http://amrel.com/wp-content/uploads/2017/04/amrel_logo300-225x60dpi.jpg
William Finn
2016-05-17 15:13:59
2017-07-11 12:09:02
FBI Certifies AMREL's Latest Android Rugged Biometric Tablet