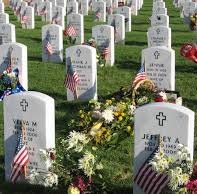 Everyone likes Memorial Day, but that hasn't stopped people from arguing about it. In modern times, controversy has surrounded moving the date of observance from May 30 to the last Monday of May. Some argue that the three-day weekend "cheapens" the somber meaning of the holiday.
A more ancient argument is the location of its origin. President Johnson formally proclaimed Waterloo, New York to be the birthplace of Memorial Day.  Historians aren't really sure where the holiday started, but are fairly certain that it didn't start there.
We know more about when Memorial Day started. Following the Civil War, numerous small communities had "decoration" days, in which people would place flowers on the graves of soldiers. Conventional historical narratives usually claim the South originated these holidays, with Northerners quickly imitating them.
One of the most interesting early observances happened in Charleston, South Carolina. On May 1, 1865, nearly 10,000 freedmen gathered to honor the Union prisoners of war who had died in a nearby internment facility. They erected a monument, sang, and, of course, placed flowers on the soldiers' graves.
Although there is no evidence connecting this early observance to the origin of the national holiday, I think it has meaning for Memorial Day. For the freedmen, conducting this observance in the birthplace of the Confederacy was in itself an act of freedom.
Slaves have no agency, no choice in what they do. They are denied their name, language, family, community, and any way of preserving their memories. Only free people can create a holiday.  Only free people can honor the fallen.
Without the Union's victory in the Civil War, the freedmen's' observance would have been impossible. By honoring the dead, the former slaves employed the very rights for which the Union soldiers' had died. We should follow their example, and remember whenever we exercise our rights, we honor those who fought for them.
In honor of those that have fallen, AMREL encourages you to give to the Veteran charity of your choice. Below are three suggestions:
http://amrel.com/wp-content/uploads/2015/05/memorial-day.jpg
194
197
William Finn
http://amrel.com/wp-content/uploads/2017/04/amrel_logo300-225x60dpi.jpg
William Finn
2015-05-20 08:42:47
2017-07-11 12:09:05
Freedom & Memorial Day