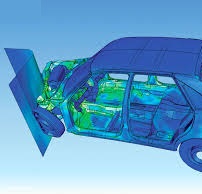 The Electronic Freedom Foundation (EFF) is having an impressive string of victories in its fight to reform the government's interpretation of the "anti-circumvention" Section 1201of the Digital Millennium Copyright Act. Arguing fair use, the EFF has had success in removing restrictions for access to DVD & Blue Ray "ripping," cellphone "jailbraking," as well as videogames and abandoned multiplayer servers.
One of the most interesting EFF's victories is the right for an owner to hack their own car's computers.  For a brief summary about this decision, see video below:
Originally, integrated automotive computers rose to prominence in response to demands for tighter emissions standards and fuel economy.  Now, computers manage air conditioning, radios, air bags, alarm systems, anti-lock braking systems, traction control, ride control, cruise control, and automatic transmissions. A typical 1970 car had only $25 worth of electronics. Currently, a new car's computers may be worth $6,000 or more.
The ever-growing computerization of automobiles had its dark side. For a person with a lot of sweat, but few resources, car repair was a traditional way to gain a respectable livelihood. The kid who fixed his neighbor's cars in his family's garage could dream of eventually owning his own repair shop.
Computerization, with its proprietary systems and software, was an obvious attempt by the automobile manufacturers to dominate the repair market.When automotive computers were introduced, they were exotic, expensive, and required extensive specialized training. In the mind of car manufacturers, the friendly neighborhood car repairman would fade into obsolescence, replaced by dealer service employees in white jackets.
And the guys who worked weekends detailing and souping up their own cars? Well, they could tell stories to their grandkids about how once upon a time, people could actually work on their own cars.
But then a funny thing happened. Computers became a lot less exotic, and much easier to use. Even uneducated people started walking around with them in their pockets. Tinkering with software became as familiar as cleaning a carburetor.
More highly trained than before, and needing more expensive diagnostic tools, the small-time mechanic has endured. Despite the designs of large automobile companies, he is not a quaint anachronism. Furthermore, guys still work on their own cars, viewing the computers as simply more parts to modify, upgrade and play with.
Proprietary laws still protect the rights of manufacturers, but the recent wins by the EFF have breathed new life into the great American car obsession.  The EFF state the recent decisions "…. represent a victory for the public that will help independent security researchers evaluate automotive software, will promote competition in the vehicle aftermarket, and will support vehicle owners who wish to learn about or improve on their own cars."
(Note:  EFF's efforts target integrated automotive computers. I am not sure, but I do not think the recent decisions apply to Mobile Display Terminals (MDT). Often used by Law Officers and other First Responders, AMREL has supplied laptops and tablets for this application for decades. We will keep a close eye on how future decisions impact MDTs)
EFF's request to the Librarian of Congress (who interprets the Digital Millennium Copyright Act and its subsequent enforcement), specifically requested the freedom to "tinker." The "freedom to tinker" is an issue that goes beyond cars and has caused technological giants, such as Google, to worry about America losing its scientific edge (see War on Inventors).
In the 1930s, when people jumped into their car's guts, and rearranged things, the hot rod was born. I wonder what will get created now.
http://amrel.com/wp-content/uploads/2015/11/cars.jpg
194
202
William Finn
http://amrel.com/wp-content/uploads/2017/04/amrel_logo300-225x60dpi.jpg
William Finn
2015-11-30 11:33:24
2017-07-11 12:09:03
Hack Your Car Legally [VIDEO]