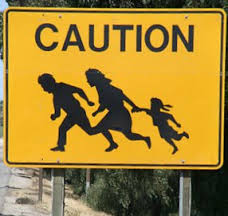 The topic of illegal immigration usually inspires technical talk at AMREL. Is the handheld biometric XP7-ID a preferred solution for border patrol agents, or do they favor the wider display of the Flexpedient® AT-80B tablet? Which components of the compact 19"/2® Network Servers are appropriate for a mobile communication solution that would service the remote areas of the American Southwest? Can the positive experiences that the military had with our Operator Control Unit (OCU) solutions for unmanned systems be repeated with the recently ramped up border security forces?
However, one afternoon we shelved talks of networks and laptops for a more personal approach. In a typical "water cooler" conversation, we discussed our attitudes toward this hot topic. What I noticed was that even though everyone had been born in this country, our opinions had been shaped by our families' experiences with immigration. Americans like to think of themselves as independent of history, and that our views are purely rational, but it seems to me in this instance, what you believe reflects who you are and where you come from.
I asked my fellow co-workers to write down how their family histories affected their views on immigration. You may be surprised at who expressed what views.
William Finn
AMREL Senior Editor & Copywriter
Most of my family tree dates back in this country to the late 1800s. They fled pogroms, 25-year draft sentences, and whatever delightful things Eastern Europeans had reserved for the Jews.
We were legal immigrants, but more significantly America was the first country where we were legal residents. Despite having lived in some European communities for over a thousand years, we never had the privileges and rights afforded our Christian neighbors. United States was the first country to ever recognize us with actual citizenship. As a result, I don't think anyone was more pro-American that my grandparents and great grandparents.
Our current generations are deeply involved with the law (family dinners often include probation officers, and a judge). We take the rule of law very seriously, but that doesn't mean we take a hard line on immigration.
Despite generations of American privilege, the ghosts of rampaging Cossacks, bone crushing poverty, and tyrannical bureaucrats still haunt us. Our family history is full of ancestors who had no documented status in the towns where they were born. We understand better than most what a desperate person will do to protect their loved ones. We look at illegal immigrants and see ourselves.
Illegal immigration is unquestionably a problem for some. Economists tell us that for the country as a whole, the financial pluses and minuses of illegal immigration average out. The problem is that no one lives in the "country as a whole." Whenever a politician talks about illegal immigration, I never hear them offering solutions for the people and communities negatively affected by illegal immigration. Sometimes, I think they care more about hurting illegals than they do about helping our country.
Frankly, I just don't see illegal immigration as that big of a deal. Maybe if I was a construction worker who lost his job to an illegal immigrant I might feel differently. Maybe if I hadn't grown up in the Arizona, where I spent afternoons with my father watching bullfights on a local TV station, and my family argued over guacamole recipes, I might view Latino culture as foreign rather than intrinsically American.
I do see other problems in this country:
In 2007, the world economy lost 8 trillion dollars due to irresponsible deregulation and shenanigans by the financial sector. Like millions of others, I lost my job and my house. No one responsible went to jail. I don't think any of the main players even lost their job. The country still hasn't fully recovered.
The infrastructure of this country is decaying and needs a massive build up, but Congress has done diddlysquat about this problem.
Our doctors may be great, but our healthcare system is the most expensive in the world. It is a drag on the economy, with every business paying an invisible tax to this terribly inefficient system.
I could go on, but what do all these problems have in common? They have nothing to do with illegal immigration.  Remind me again, why are we talking about this?
Richard Barrios
Web Marketing Specialist
I am proud of my heritage and the roots of my family.  As my Dad would say, "I am an American not a Mexican."
Immigration is a very personal issue for me.  My mother's side of the family came here from South America on visas and worked their way to citizenship.  My father was born in the United States from immigrant parents that came to the US in the 1930's.  My wife and her family are also naturalized citizens, but from the Philippines.
I am Hispanic and grew up in a Hispanic home and in a Hispanic neighborhood. I know that many will call me a self hating Hispanic and racist. However, illegal immigration and the activism to legitimize it is a slap in the face to my family.  Plain and simple.  Both my family and my wife's do not understand the fight to legalize those who broke the law and want preferential treatment.
My wife's cousin, who lives in the Philippines, has applied to come to the United States and has to wait 10 years.  He is a registered nurse and runs his own business.  Meanwhile, illegal immigrants sit in the United States and wait for the next amnesty law to take effect.  The illegal works here, establishes himself with references, and has children.  The children are citizens and now this illegal alien has additional arguments to stay in the country (Dream Act).
Federal Government is asked to protect the border and won't do it.  Instead they spend millions on amnesty programs and trying to convince Americans that Mexico and Mexicans are not the problem.  I have heard many people say that it is impossible to deport or send 11 Million illegal aliens out of the United States. Then how did 11 Million people come to the United States if it's impossible to move that many people in the first place?  How about they leave the same way they came and all others on a case by case basis.
Something that many haven't taken into account are the resources that are available.  From money, to housing, to jobs, legal immigration, roads and natural resources. The child of an illegal is eligible for welfare and thus qualifies the family for all the other benefits.  Another way to qualify is using false papers.   Stealing Social Security numbers and paper work of legal immigrants is very common.  How do you think 11 Million illegal aliens live and work in this country? Without closing the border and creating a legal way in, the money that needs to be allocated to support less fortunate can never be assessed correctly from year to year. This unchecked immigration issue also hinders people that want to come here legitimately.  My wife's cousin for example.
Natural resources, like water, also becomes an issue.  In order to support a population one needs to have control over how many people come into the environment.  Governor Brown of California said recently, said "If they did so, the state would not only support its current population of 39 million, but probably could accept at least 10 million more residents." If illegal immigration is left unchecked we will quickly exceed the numbers we can support.  At current rates California should reach 50 million residents by 2050, then what?
Growing up, I found an overwhelming majority of Mexican Americans, even US born, consider themselves Mexicans first and Americans second.  Stark contrast to the vast majority of Asians, Europeans and Africans who immigrate to this country and are proud to be called Americans.
Today, the distinction of rights afforded to an American citizen and an illegal alien is nearly gone.  What is left?  There are over 200 sanctuary cities across the country who have explicitly committed themselves to ignore federal law and will not cooperate with ICE.  Public policy has given illegal aliens more rights than an American citizen under the law.  If I break a state or federal law is there a sanctuary city for me?  If I break the law (non violent) and get sent to jail for a number of years, is the state not separating me from my family and taking away the bread winner?
Tens of thousands of American service men have bled and died for the rights and freedoms we have in the United States, not for Mexicans to have rights to the United States.
Albaro Ibarra
Senior Marketing Manager
Both of my parents came to the USA from Mexico legally. My mother went through the process at a young age and secured her Green Card. Her older brother that came here first then helped the other siblings. My father received his Green Card with help from his boss when he was working in the fields of Coachella picking vegetables.
When both were in their 40's, they finally became US citizens.   Both initially had thoughts of returning back to Mexico, but when they had kids they realized that a better life could be had here. The USA is their home. Their roots are now here. They would not return to Mexico, but they call themselves Mexicans.
My brother and I are First Generation Americans. My primary language is English, but I can read and talk in Spanish (not as fluent in writing). My mind thinks in English first and when I am around Spanish dominant speakers my mind thinks in Spanish until I come across a subject or word or phrase that I don't know. I tell you this, so you can understand how a First Generation American thinks, compared to someone that grew up in Mexico or a 2+ generation American.
The latest census says that the amount of Latinos in the USA that were born outside of the USA is smaller than those born here. This is a recent change; before the ratios were reversed.
This generation will be bilingual or English dominant. They consider themselves Americans but have Latino cultural ties. The concern I have is that those cultural ties are weakened with each generation. It is a conscious effort on the behalf of my wife and I to have our kids speak Spanish and understand their grandparents' rich culture.  They want to learn, but they can't relate. When I took them to Mexico on a visit, they were seen as America, not Latinos. The more generations that go by I fear those connections to the Latin cultural will be weakened to the point where one of my great grandchildren would not know they are Latino until they do a school project to check their family tree.
I believe a balance is the best thing. If you are born here, you are American but you should not be punished because of your cultural ties. What makes America so great is its diversity. It is that diversity that makes us stronger and more exciting as a people. We are that great melting pot that has food and spices from all over….what a delicious dish. Who want to eat the same thing every day?
I do believe in enforcing immigration laws, but not building a huge wall. I believe we should have a form of identification for everyone who lives in the USA, because I believe it would help identify potential threats to our country, and help improve the situation about undocumented people receiving medical aid or other State or Federal Services. I am not a cruel beast and don't believe that if you are here illegally you should not receive basic human rights. What I am against is the people that want to take advantage of the system and the lack of tracking or documentation costs us millions.
My parents believe the same way, even though I do have family members that are very well off, but work the system to get FREE State of Federal aid. I don't think that is a Latino thing, more a moral thing.
Conclusion
There you have it. Three different people with three different family histories on immigration, and three different attitudes toward illegal immigration. Even though we disagree, we respect each other's opinions. I think a large part of that is that we understand how our past and our family histories have shaped our experiences. Hopefully, others will have the same tolerance in this contentious debate.
The opinion expressed in this article are solely those of the authors and do not reflect the positions of AMREL, its partners, or its other employees.
Do you have an opinion? Send it to editor@amrel.com. Be advised we may use the content of your email in a future blog post.
http://amrel.com/wp-content/uploads/2015/09/immigration.jpg
216
228
William Finn
http://amrel.com/wp-content/uploads/2017/04/amrel_logo300-225x60dpi.jpg
William Finn
2015-09-04 11:03:42
2017-07-11 12:09:04
Illegal immigration debate, a family story