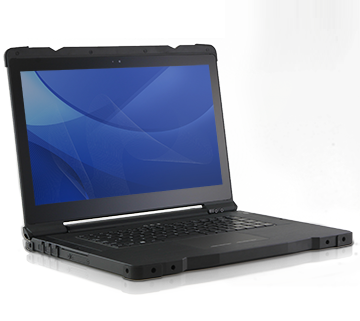 AMREL announced the launch of thinnest rugged laptop with a 15" display.  Leveraging 30+ years of experience of supplying rugged computers to warfighters as well as Public Safety officers, AMREL has developed a fully rugged laptop that is just 1.25 inch thick.
"Durable, rugged computers are traditionally regarded as heavy and cumbersome," explained Kalvin Chen, AMREL's VP of Operations.  "However, slimmed-down computers are becoming increasingly popular. At AMREL, we believe soldiers, police officers, and other end-users deserve the best of both worlds so we introduced our 'Tough & Thin' series.  This series is dedicated to reducing the size, weight, and power for their mission and application. The 15" ROCKY RV11 laptop is our latest addition."
AMREL's "Tough & Thin" series includes:
ROCKY DB6 – Atom-powered handheld that is the smallest rugged computer in the world with full Windows OS
ROCKY DF6 – ARM-based handheld which runs the Windows CE
ROCKY RS11 13" laptop – Only 1" thick
An Android handheld is expected to be released soon
"The ROCKY RV11 is an important member of this series," states Mr. Chen, "because 15" is the size that most of our clients demand for laptop displays."
Like all AMREL products, ROCKY RV11 is fully rugged.  Independently certified for MIL-STDs 810/ 461, and IP65, it comes standard with a durable Solid State Hard Drive.  Yet, it weighs only 8.16 pounds and is just 1.25 inches thick.
Despite its thinness, ROCKY RV11 doesn't skimp on power. It has a powerful Intel® Core™ i7 Processor, well-suited for modern data-intensive applications.
Perfect for applications that require rigorous field work, heavy data input, and a large display, the ROCKY RV11can be used for:
Onsite Data Collection & Management
Front-Line Mapping & Situational Awareness
Oil & Gas, Mining, and Construction
Field Research & Surveying
Combat Control Solutions
To learn more about the RV11 click here.
http://amrel.com/wp-content/uploads/2015/03/RV11small2.png-22.png
377
360
William Finn
http://amrel.com/wp-content/uploads/2017/04/amrel_logo300-225x60dpi.jpg
William Finn
2015-03-03 14:11:00
2017-07-11 12:09:07
Thinnest, Rugged Laptop with 15" Display is here!