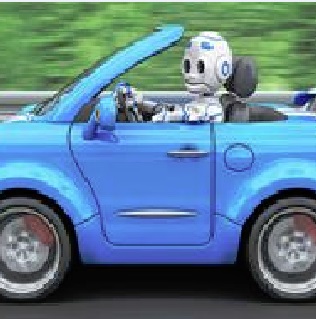 Biggest problems facing robot developers
Recently, I interviewed Rob Culver, Director of AMREL's Business Development and Sales of Unmanned/Manned Vehicle Systems.  Rob has done stints as a procurement officer, and in Special Projects Management Office at USASOC. After serving 23 years in the Army, Rob joined iRobot in 2005.  He traces his lifelong interest in robotics to reading Robert A. Heinlein's "Starship Trooper" and Douglas Adams "Hitchhikers Guide to the Galaxy."
My sense is that unmanned systems, especially ground vehicles, are at some kind of crossroads.  The technology is advancing rapidly, but the land wars are winding down.  The domestic market hasn't increased to the point to make up for the slacking demand by the Department of Defense (DOD). What do you see as the biggest challenge to the industry?
We have to drive cost down.  A 35 lb remote control robot should not cost more than a semi-autonomous Mercedes Benz.
Why? So robotics can expand into non-military applications?
Non-military applications, maybe, but mostly because cost is what is preventing DOD from doing more.  Seriously, a lot of DOD robots aren't much more than beefed up remote-control toys, and still cost $150 – $200K.  I can buy a piece of science fiction as a luxury car for less than $100K.  We, as an industry, have not crossed that chasm.
Science fiction?
Cars have all sorts of sensors and stuff. Mercedes offers sedans with:
Multi-modal Rader
Stereo Multi-purpose cameras
Long Range Radar with mid-range scan
Near Far infrared camera
Short range radar
Ultrasonic sensors
Self-driving for 15 seconds
Collision avoidance
Adaptive cruise control
Steering assist and Stop & Go pilot
Blind spot detection
Lane departure warning
Brake Assist
Cross traffic assist
Pre-Safe Brake
Pedestrian detection
Active parking assist
Stereo cameras that scan the road ahead for undulations and adjust each wheel's suspension to smooth the ride.
We're not even mentioning the leather seats. All for under $100k! Yet, a small remote controlled robot with an arm/manipulator can cost the DOD over $100K.  And it doesn't even have seat warmers!
Isn't that a little harsh on the unmanned industry?  Aren't there a lot of companies doing good work?
Yes, of course.  Companies like Chatten Associates/Telefactor Robotics, RE2, and Trillium Research have been doing great work.  My perception (and this is just my opinion) is that prime robotics companies tend to be focused on their own technology ("not invented here" syndrome) and technology that comes from within the "robotics" community.
The next challenge is cost-effective integration of emergent technologies.  We need to look at industrial machinery, automotive, flight, surveillance, logistics, warehousing, etc.  We will always need roboticists, but for the future of the industry, we are going to have to evolve into logisticians, manufacturers, industrial engineers, supply chain managers.
It sounds like you are saying that roboticists need to be more generalists.  What about unmanned systems themselves?  Do you think they need to be dedicated to one application or multi-functional?
I've heard two arguments about this at recent symposiums I've attended:
One point-of-view states that to be successful, industry needs to optimize robotic design for one application.  I think Advanced Explosive Ordnance Disposal Robotic System (AEODRS) might fit that bill.
The opposing view was "the customer wants multifunctional Swiss army knife" type robots.  It sounds good, but I don't have an example of a successful general purpose robot.
My own opinion is the customer wants to pay less, and that is not very interesting to roboticists.
What applications should we focus on?  Which ones, in your opinion, are the most promising?
Applications for convoys are very promising. For example, the Autonomous Mobility Appliqué System (AMAS) that's being done at Tank Automotive Research, Development and Engineering Center (TARDEC).  I see it being used in the combat maneuver support role as opposed to inside the combat arena itself.  Besides AMAS, Sweden's Safe Road Trains for the Environment (SARTRE) Project is a good example of improving logistics and transportation.
I'd like to see manned / unmanned teaming on the ground as it is already happening in the air.  My fantasy as an old soldier would be a "smart" battle uniform that could be part of the control mechanism for a semi-autonomous "battle buddy" using haptic and maybe even someday, Brain-Machine Interface (BMI).
As a soldier, I didn't love my rifle because it was a rifle.  I loved it for what it could do for me.  Too many of us are still in love with robots.  Yes, without that passion we would have never got to where we are, today, but we have to grow.  I predict fewer robots for robotics sake, and more tools that happen to be unmanned:
Surveillance & Security
Rear security during movement
COMMs and sensor relays.
Remote LP/OP
Armored Medevac
Collaborative behaviors between robots
Surrogate Hazmat workers
Sounds like you are favoring single-application unmanned systems.  Won't that lead to a proliferation of platforms?  How will we deal with interoperability, especially for Operator Control Units?
When I think of common control or interoperability for controllers, I think about my Logitech Harmony TV Remote.  One remote to rule them all – TV, Cable, DVR, media stick, etc.  I can access my remote via the USB port and update it to run any brand of hardware over a wide variety of functions.
Why hasn't the robotics industry offered that to our customers yet?  I know part of the answer – lack of common standards and protocols.
Industry insiders tend to blame the government for lack of leadership in interoperability.  Do you agree?  Is this call to actions for the robotics industry?
Yes.  This is a call to action for the industry.  Tell DOD what the answer is, and DOD will be happy. For the most part DOD is very happy to conform to industry standards.  Wait for DOD to come up with a common standard and we may well have manned colonies on other planets before we see it.
What about AEODRS?  Virtually all of the early generations of Unmanned Ground Vehicles (UGV) were developed by standards that came out of the NAVY's Explosive Ordinance Division (EOD).  Won't AEODRS fulfill the same role for future unmanned systems?
AEODRS approach is aimed at a very specific family of systems. AEODRS is first and foremost an EOD tool, which you can also use as a UGV. But AEODRS is not the solution for all of DOD robots. As stated – it is EOD.
The EOD community has been the most successful with ground robotics, and the rest of DOD should learn from their example. However, the EOD community does not have the authority, power, requirement, responsibility, or the obligation to lead all of DOD in this area.  EOD is the de facto leader, but it will never meet all the unmanned requirements for Infantry, engineers, Military Police, etc
To me, AEODRS is very exciting, and is a great example of a DOD acquisition program done right, but the rest of DOD, needs to focus less on AEODRS and more on developing their own use cases and requirements, to better understand and define, what they really want out of unmanned ground systems.  Within the DOD, is the Robotic System Joint Project Office (RS JPO)  is doing a good job of guiding the development of a set of standards with their  UGV Interoperability Profile (IOP), a commonality baseline to build on. However, as I said before, industry needs to stop waiting and start leading.  Of course that will require aggressive cooperation, in the face of competitive pressure.
http://amrel.com/wp-content/uploads/2014/01/UGV-with-Leather-seats.jpg
319
316
William Finn
http://amrel.com/wp-content/uploads/2017/04/amrel_logo300-225x60dpi.jpg
William Finn
2013-11-15 14:19:34
2017-07-11 12:09:11
UGV cost & why they should have leather seats