BioSense™ AT80B: 8" Rugged Android™ Biometric Tablet
Mobility without sacrificing functionality is in constant demand. Enjoy greater mobility with this ideal screen size and lightweight device. The AT80B biometric tablet enables you to capture single or dual pressed and rolled prints on-the-go. Enhance other functions by integrating your peripherals or adding additional I/O ports (e.g. USB, RJ45, Serial).
Personalize your solution by choosing your color and adding your logo on the device.
Less than 1 inch thick
Under 2 lbs (0.87 kg)
Flexible platform for extra hardware integration and customization
Certified to IP-67 for water and dust proof
Private labeling available

BioSense™ PA5: 10.1" Rugged Android™ Biometric Tablet
Large, 1000 nits, high-definition display
Robust and feature-rich tablet and accessories
MIL-STD 810G and IP-65
Also available as standalone tablet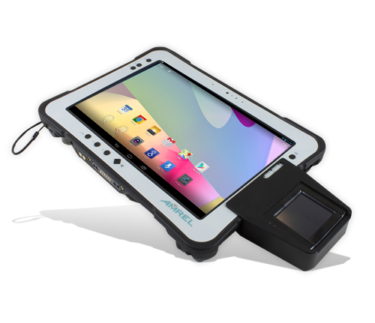 BioSense™ PA5: 10.1" Rugged Android™ Biometric Tablet

Where to find us
9040 Telstar Ave, Suite 127, El Monte, CA 91731
Phone: +1 (626) 482-1862 | Fax: +1 (626) 226.5716 | Email: AskUs@amrel.com
Our Office Hours
Monday-Friday: 8:00am to 5:00pm PST
Saturday: Closed
Sunday: Closed