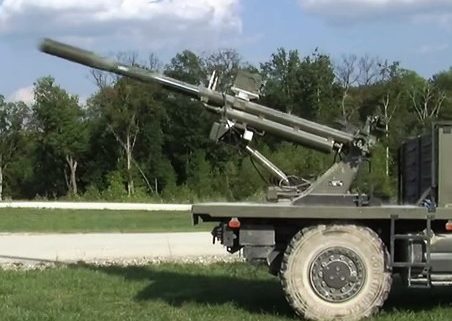 Built by the Mandus Group, the Hawkeye 105mm Weapon System is a revolutionary system that decreases recoil by 70% without degradation of performance. Recoil is dissipated by a hybrid of the traditional oil & gas system and what is known as a "soft recoil" system.  Watch the video below to see the mobile howitzer in action.

Notice that before the Hawkeye discharges, the barrel is cocked slightly forward.  This is part of the "soft recoil" control.
Recoil is so reduced that the Hawkeye can be mounted on a truck with only four bolts. The lack of recoil (and light weight) means the Hawkeye can be used on a wide variety of military vehicles including those that are wheeled, tracked, towed as well as rail, watercraft, and aircraft.
This mobile, powerful weapon is controlled by AMREL's ROCKY DK10 Rugged Tablet. The Mandus group chose this 12.1" tablet because they needed modifications for a low volume order, which is AMREL's specialty.
In order to be the Hawkeye's Operational Control Unit (OCU), the DK10 tablet was modified to have thumbwheel connectors and joysticks. The DK10 OCU:
Issues elevation and transverse commands
Manages sensors
Engages the safety system
Enters firing missions & controls direct fire
Interacts with laser range finder
Interfaces with internal navigation system and electrical control box
In addition to functioning as a handheld control unit, the DK10 can be used in cab for navigation.
To learn more about AMREL customized table solutions, click here.
http://amrel.com/wp-content/uploads/2015/06/Hawkeye1.jpg
468
452
William Finn
http://amrel.com/wp-content/uploads/2017/04/amrel_logo300-225x60dpi.jpg
William Finn
2015-06-05 14:57:43
2017-07-11 12:09:05
Revolutionary Hawkeye 105mm Control Unit [VIDEO]